As a solutions provider Linron provides the product as well as installs.
Quartz-Filled Epoxy Floors – Quartz epoxy flooring systems combine high-performance epoxy polymer resin with colored quartz grains. The result is a multi-functional floor that's decorative, sanitary, slip-resistant, and exceptionally durable.
Metallic epoxy is a special multi-layered epoxy floor coating system that incorporates the use of a metallic additive mixed into a clear epoxy coating to create exotic effects. This metallic powder continues to move through the epoxy as it cures creating the lava flow or pearlescent design.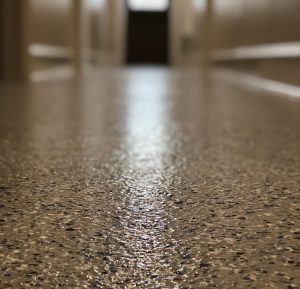 (LVT) offers 3D printing technology which adds depth and realism, durability, with a high performance wearlayer to a vinyl tile product. LVT offers the option of a less permanent floor than wood or ceramic tile, especially with the growing popularity of floating LVT floors.
(VCT) is a finished flooring material used primarily in commercial and institutional applications. In installation the floor tiles or sheet flooring are applied to a smooth, leveled sub-floor using a specially formulated vinyl adhesive or tile mastic that remains pliable.
Polished concrete is concrete that has been processed through a series of mechanically ground "polishing/grinding" steps similar to the production of terrazzo. This process also includes the use of a penetrant chemical known as a hardener. Polished concrete is a "green" flooring system and LEED approved.
An "overlay" creates a layer over the concrete. It is a is a cementitious based self-leveling compound providing an extremely dense and durable surface to be sealed or polished in interior and exterior areas. They can revitalize the look of your concrete floor while also mimicking other types of stone, brick, wood, and slate.